My love and passion for food has spilled over from cooking for family & friends into this new and wonderful place where I am now cooking for friends I haven't made yet.
Nothing gives me greater pleasure than bringing people together over food - following the idea of the "mediterranean table" where people share food, relax and enjoy each other's company. I make food that is simple and unfussy that has evolved from ideas and tips I've I picked up along the way.
So If you love quality fresh ingredients, cooked with enthusiasm then I'd love to cook for you and help you share YOUR table.
RICHARD MILLS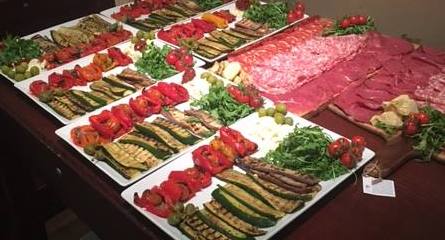 Superb!
"What a great evening we had with Dickie's Pop up. We had such a fun evening and Richard was a great cook and 'host' coping admirably in our home. Our guests loved the evening and we were able to relax with our friends, while enjoying some lovely fresh cooked food in our own home. Thank you."
Emma F
What fun...
"I didn't know quite what to expect when friends recommended to my wife that we try Dickie's Pop up! But what a great experience. We ended up trying food we'd never cook at home ourselves....the langoustines were the surprise for me. Excellent. Look forward to doing it again."
Roger M
Thinking of hosting an event or celebration?
Location
I am based in the Molesey area and can cater for private dining at your home or preferred location, anywhere within a 10 mile radius, but am happy to discuss events further afield.
Hours
Weekends and Evenings
Please call me on
07990 537157